SA104 : How do I record Partnership Income on the Personal Tax Return (SA100)?
Click on

ADD NEW PAGE

and select SA104

Partnership



Enter the

PARTNERSHIP DETAILS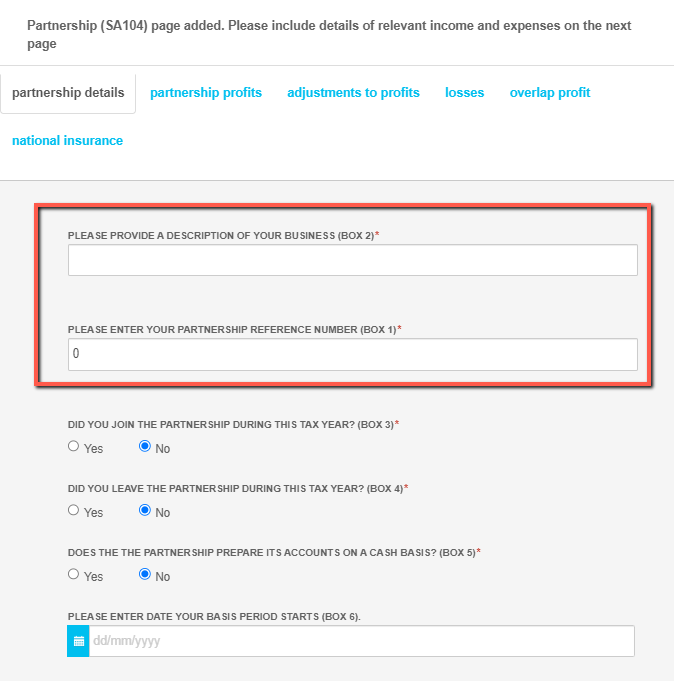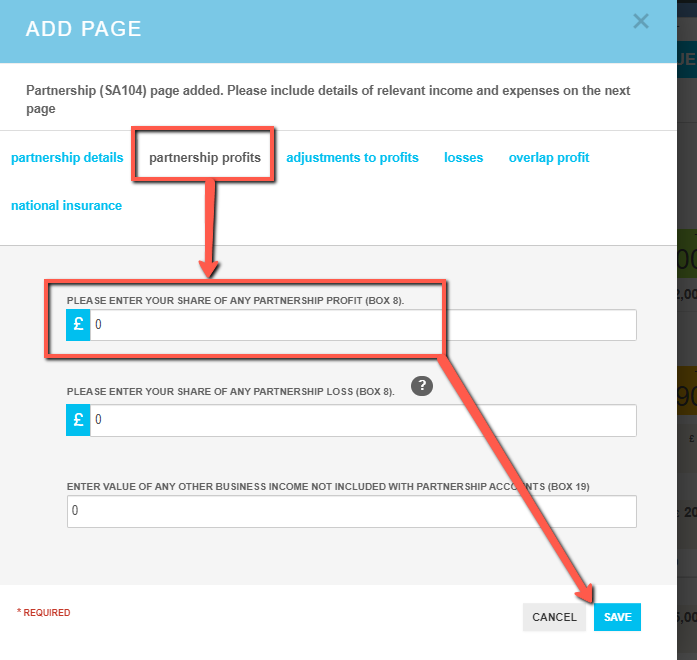 Related Articles

SA800 : I am in a partnership. What tax returns do I need to file?

As a partnership there are at least three tax returns required: 1. SA800 Partnership tax return. On here you show details of the partnerships income and expenses, the names of the partners (including address, national insurance number & UTR) and ...

SA800 : Can I Complete An SA800 Partnership Return Using SimpleTax?

You can now submit your SA800 Partnership Tax Return using GoSimpleTax Sign in at www.gosimpletax.co.uk or click 'Not yet registered? Sign up here' if you need to create an account Select SA800 Partnership by ticking the box labelled 'Partnership ...

How Do I Transfer My Partner's Personal Allowance?

Click SAVE & CONTINUE Select the 'YES' radio button to indicate that your partner has made an election to transfer their personal allowance to you You need to ensure that your spouse's/civil partner's details have been entered in the Personal ...

Partnership Property Finance Costs

For the 2020 to 2021 tax year, you can only claim 0% of the cost of getting a loan, or alternative finance to buy a residential property that you let, and 0% of any interest on such a loan or alternative finance payments. 1. Click on '+ NEW PAGE' and ...

SA800 : Partnership management details - Adding and amending partners on SA800

In order to add/amend partners on the partnership tax return, first press the 'Partnership detail' button: Scroll down to the bottom of the partnership details page and then press 'Partnership management': This will bring you to the page where you ...