SA100 : I am a new user and want to pay for 2 tax returns for me and my spouse/partner. how do I do this?
You can choose to pay for a second tax return (person) on your account to take advantage of the multiple user pricing. Once you have added all you data and you are ready to file/pay please click PAY NOW.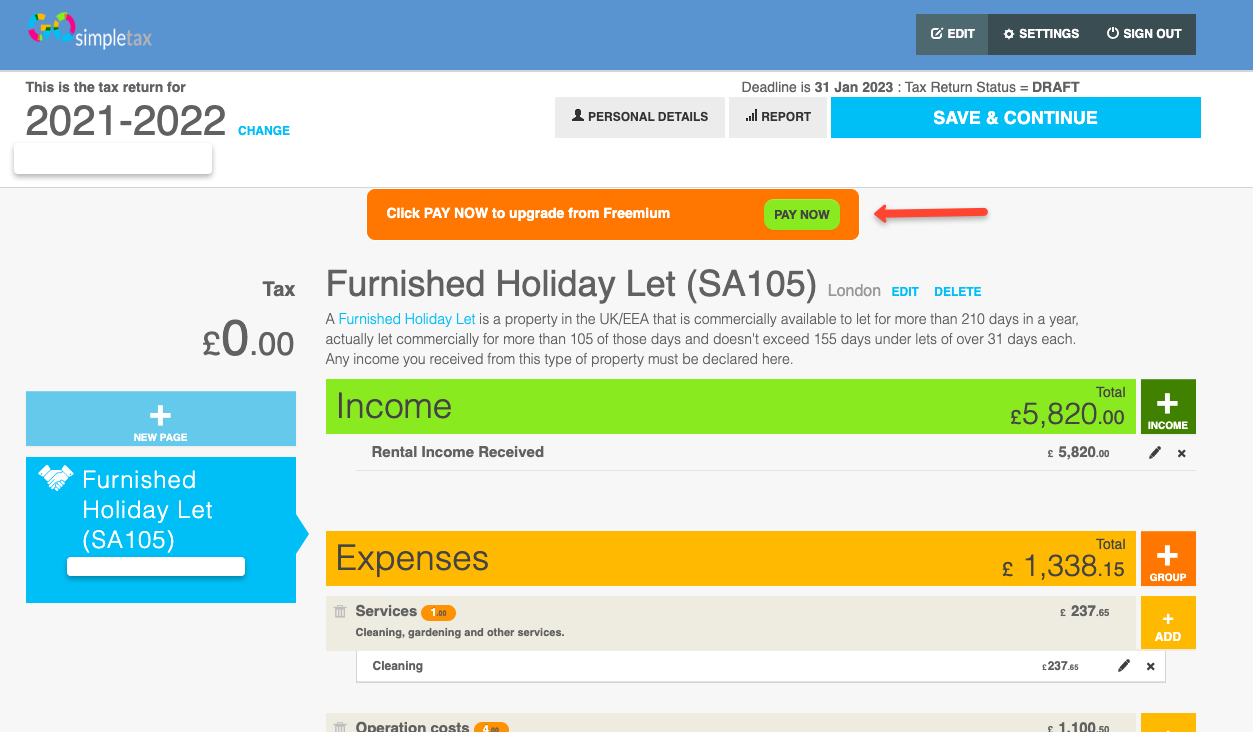 Enter the number of people you want to file tax return for and then APPLY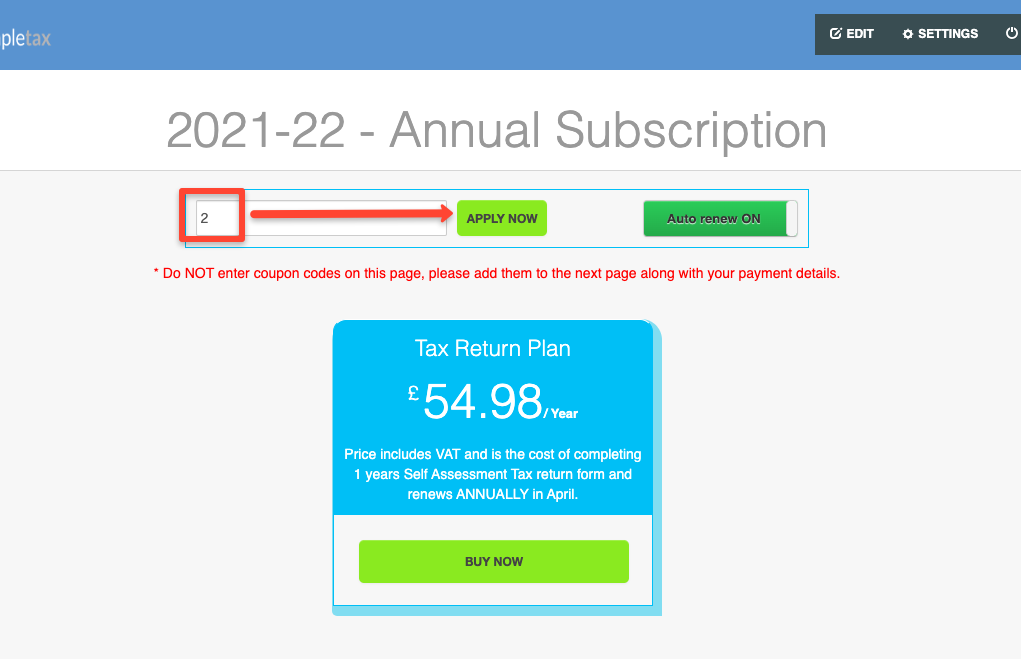 When the screen refreshes click BUY NOW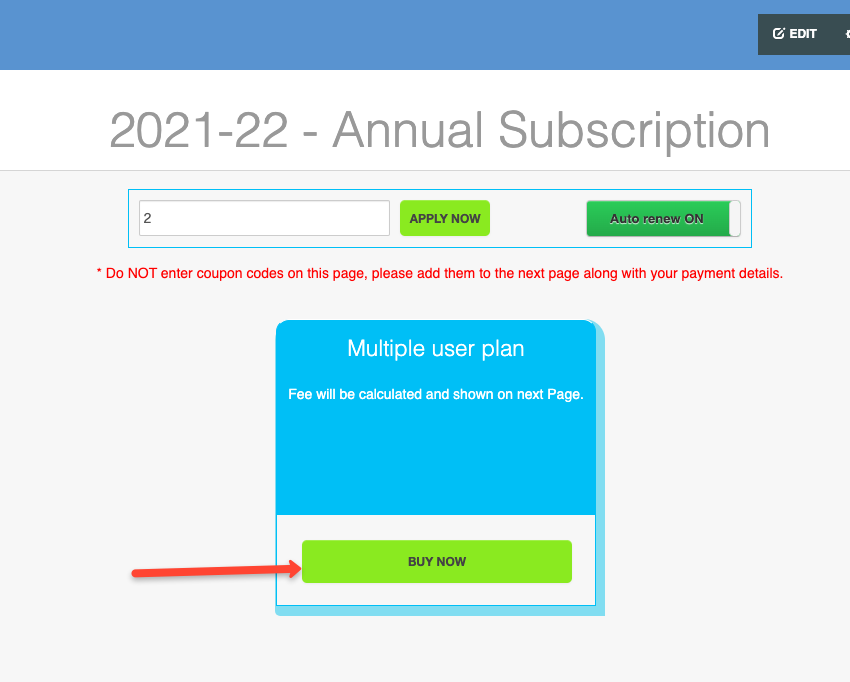 Then PROCEED if you are happy

Choose your payment method of Paypal or credit card and once added click SUBSCRIBE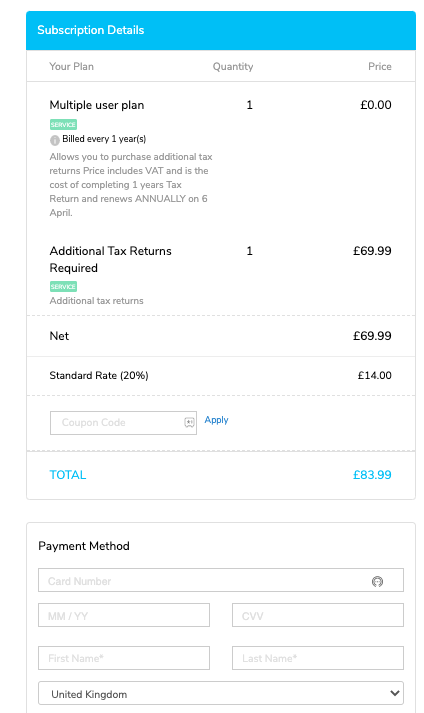 Once the payment has been processed the additional tax return will be added to your account when you will have a new ADD/SWITCH button that can be used to move between tax returns as required.

Related Articles

SA800 : I am in a partnership. What tax returns do I need to file?

As a partnership there are at least three tax returns required: 1. SA800 Partnership tax return. On here you show details of the partnerships income and expenses, the names of the partners (including address, national insurance number & UTR) and ...

I paid in January - why do I have to pay again?

GoSimpleTax is an annual subscription that renews in April ready for you to file your tax return, anytime from the 6th April through to the 31st January deadline. If you generally submit your tax return nearer to the deadline and would like to pay ...

SA100 : How do I add a new page to my tax return?

How do you add a new schedule to my tax return? This can be achieved in three simple steps: 1. Press 'NEW PAGE' 2. Now 'SELECT' the relevant schedule 3. Then enter any requested details, where relevant, and press 'SAVE'

INVOICING Add a new invoice

To add a new invoice please 1. click + ADD as shown below. 2. Select your customer or chose the + to create a new customer record 3. To complete the invoice for your customer please: - Enter the date of the invoice, this must fall within the tax ...

How-much-does-it-cost-to-file-multiple-tax-returns-

**CONTENT IS OUT OF DATE** Multiple Users - Annual Pricing (per tax year) per tax year Number 1 £36.00 2 £54.00 3 £72.00 4 £87.00 5 £99.00 6 £109.00 7 £115.00 8 £121.00 9 £123.00 10 £125.00 11 £126.00 12 £127.00 13 £128.00 14+ are charged at £1.00 ...